How to configure the Automated shipping in Shopify
Before you start selling your products with Shopify, you need to set up the shipping option for your products. In this article, we will show you in a few simple steps how to get this done.
Firstly, choose the Cloudprinter.com shipping method for your order
There are two shipping modes available:
1. Automatic Shipping mode (recommended) - in this mode, calculated shipping rates are determined at checkout by a third-party shipping carrier based on the order details. It helps you charge your customers the exact amount offered by Cloudprinter.
To activate the third-party carrier-calculated shipping, your store needs to be on the Advanced Shopify or Plus plan. If you're on the Shopify plan, you can add this feature for a monthly fee or switch from monthly to yearly billing. For more information, contact Shopify Support.
2. Manual shipping mode - this mode is available regardless of the Shopify plan you use and does not require any additional payments. However, you should check the price of shipping for each product and to each country, and then manually input the price which will be displayed to your customers during the checkout.
If you go with automatic shipping mode here are your steps:
Step 1 - Enabling Cloudprinter.com shipping methods for your order
Open the Cloudprinter.com application's Settings tab and choose "Shipping". Choose the Shipping mode automatic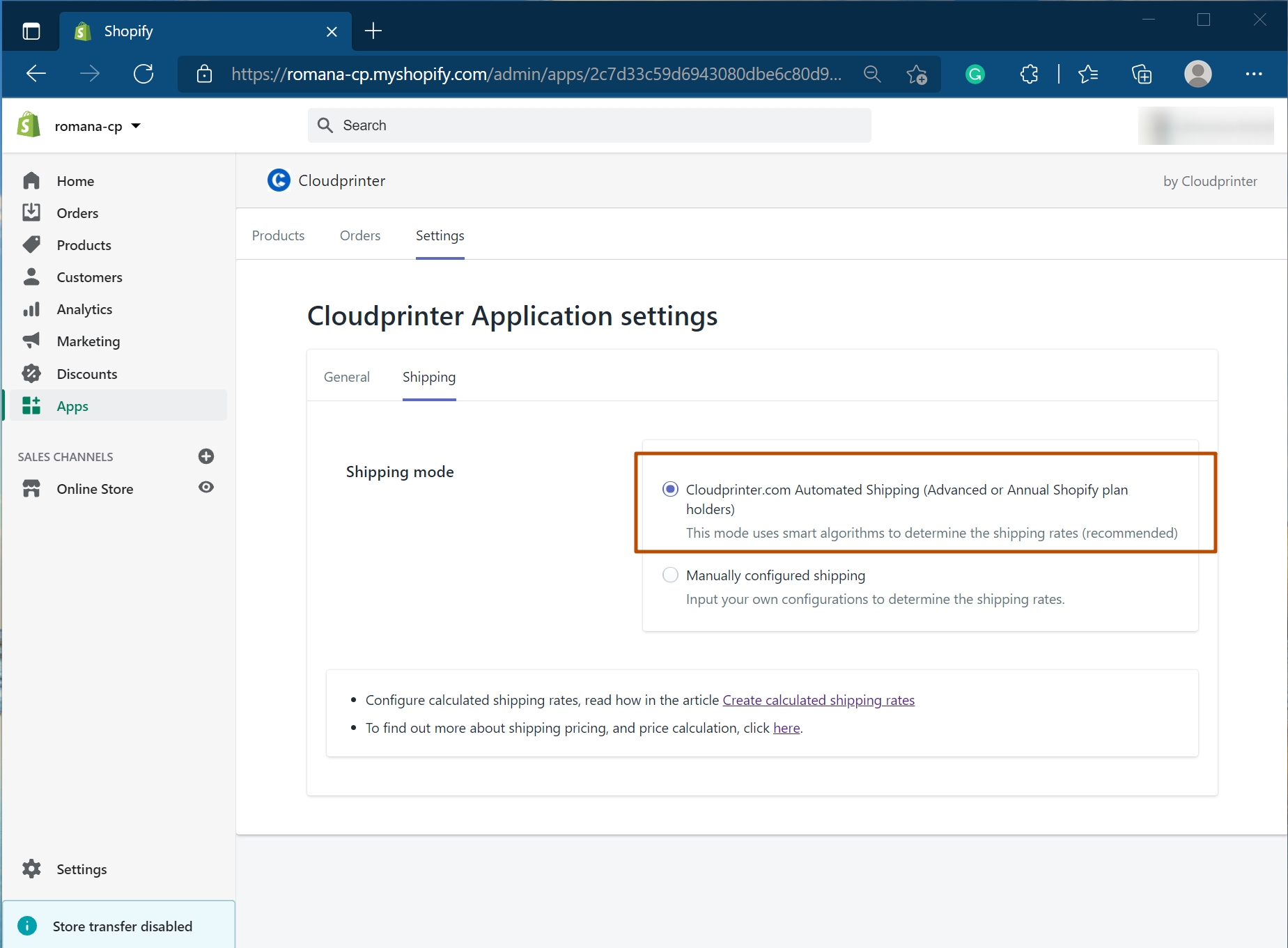 Step 2 - Setting up shipping profiles and rates
2.1 Go to "Settings" and open "Shipping and Delivery.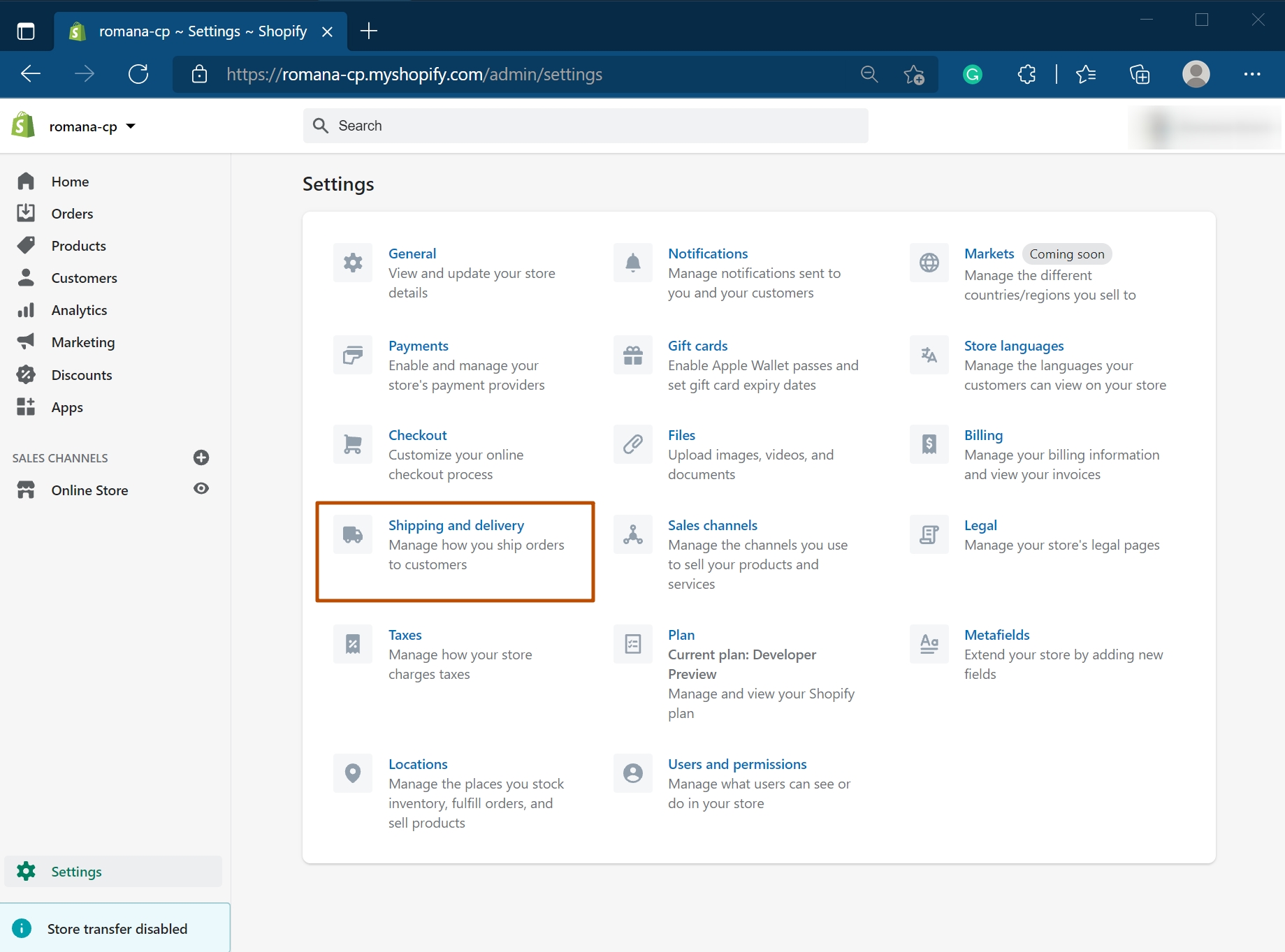 2.2 Press "Create new profile" at the Custom shipping rates for products.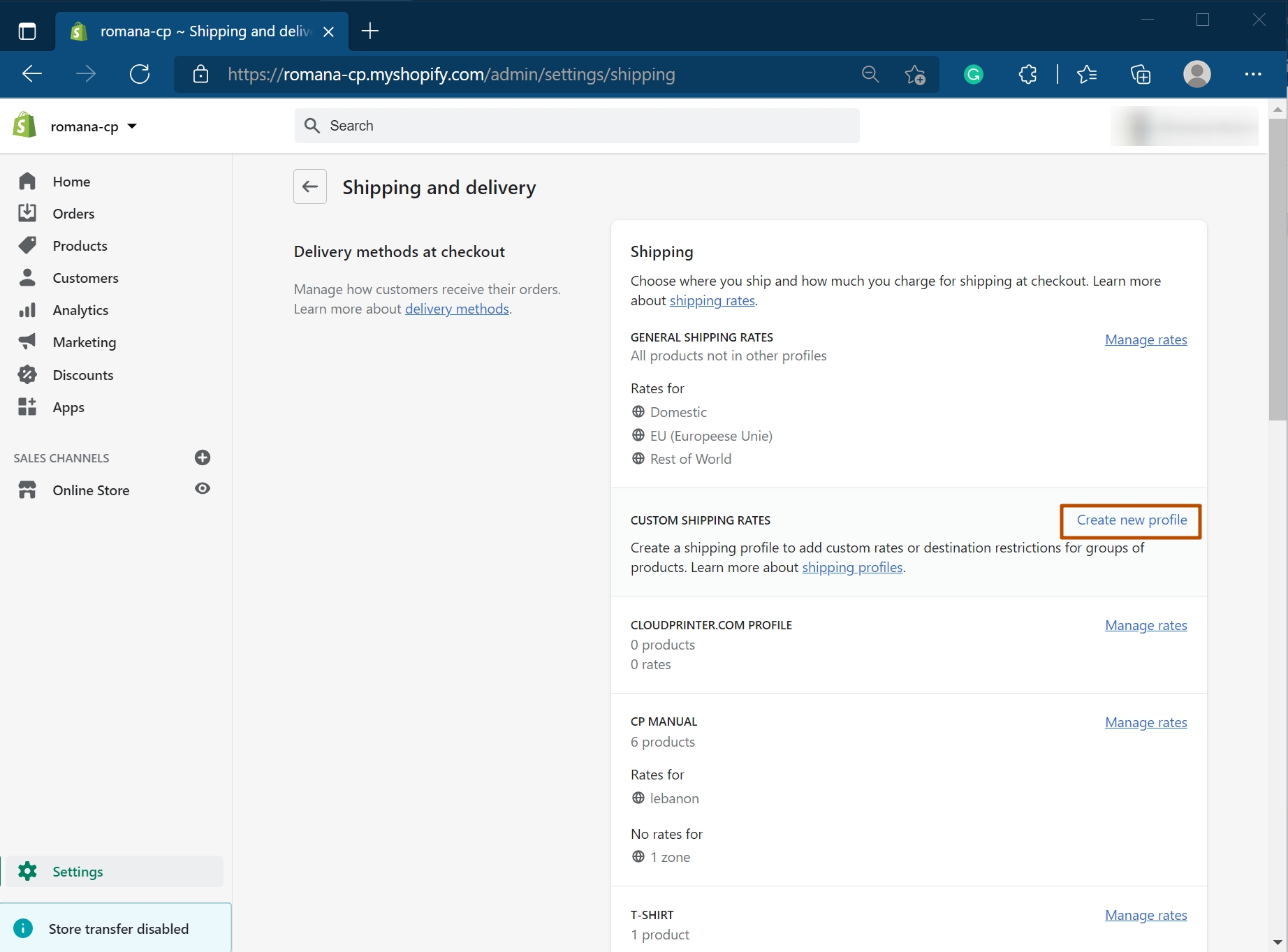 2.3 Here you can set up a shipping option for the chosen product:
Fill in the "name" field, add "products" to this profile and choose the areas of shipping.
Press the add rate button on the left to manage rates.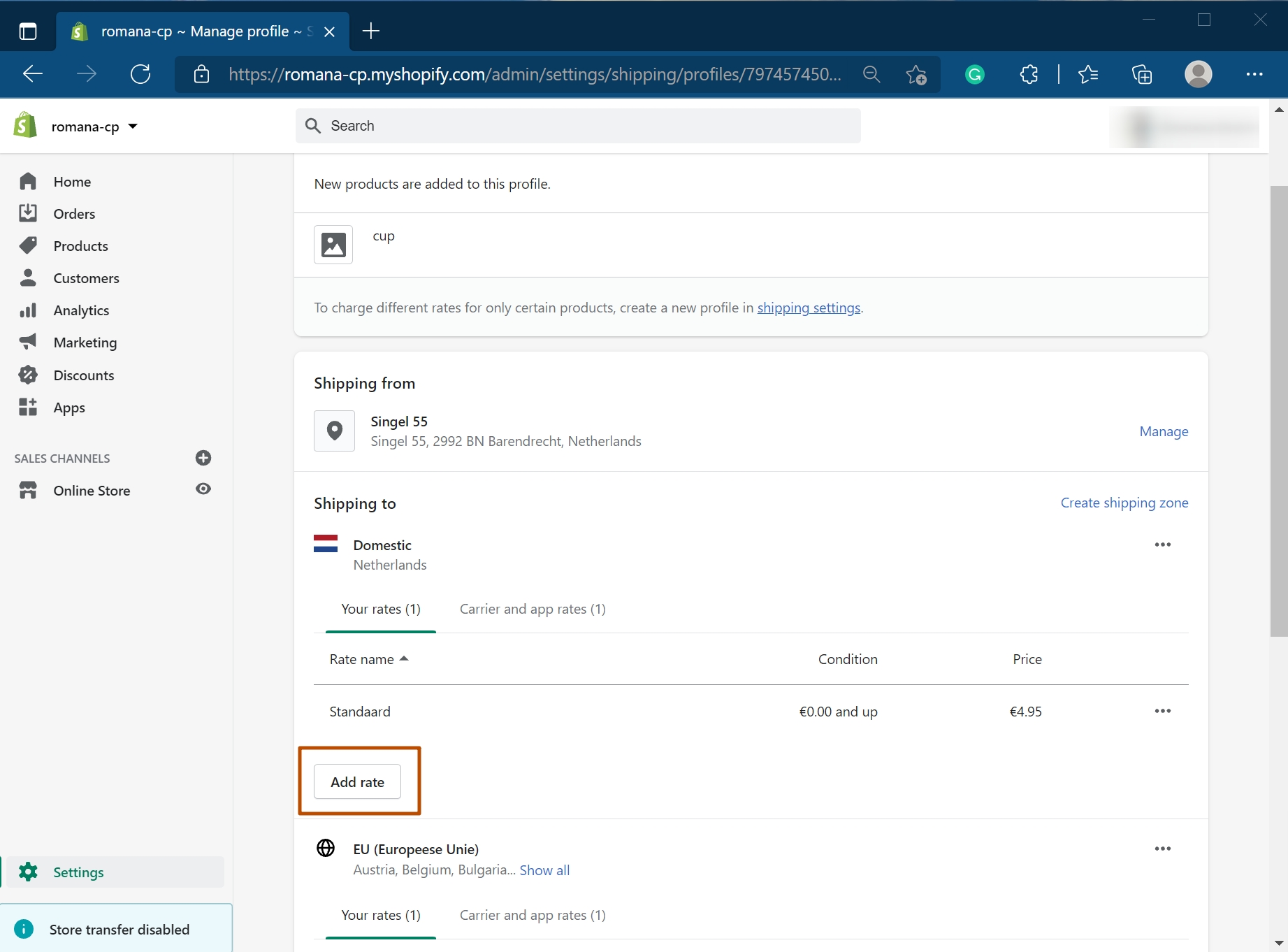 2.4 In the next step, you can set your own rates or choose the carrier rate.
Fill in the Rate name field and set the price for this shipping profile. Press "Done" and after that - "Save".
2.5 Cloudprinter.com products should be set the same way, but when setting up the rate you should choose "Use carrier or app to calculate rates" Shipping rates will be provided by the Cloudprinter.com app.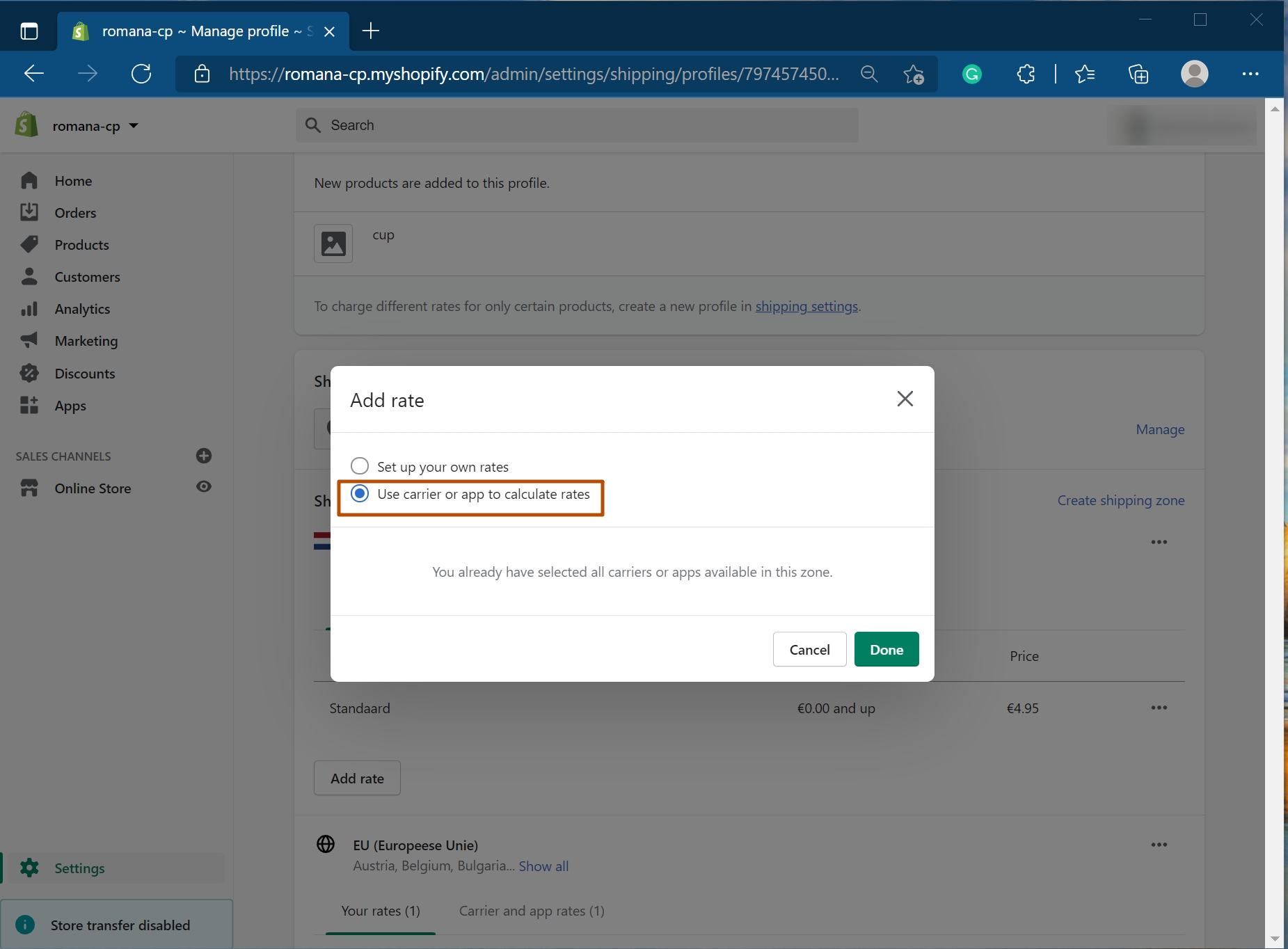 Learn how to choose contact methods in Shopify in our next article.