Ready-set-go! You are standing on the verge of publishing your own book, selling your photographs, or distributing your designs via WooCommerce. Test your link with Cloudprinter.com and go live now!
Your Cloudprinter.com plugin for WooCommerce starts in Sandbox Mode. This mode enables you to fully test the plugin without the need to place and pay for actual orders. Sandbox mode is available irrespective of whether you added a credit card to your Cloudprinter.com account or not. As usual, in sandbox mode you will receive status updates, the order will appear in your online Dashboard and everything will seem like it is a real order.
The Sandbox mode gives your the perfect opportunity to test out your link to Cloudprinter.com. Once you have installed the plugin for WooCommerce, authorized your account, and created your first Cloudprinter.com products, you can now head to your own (test) domain and continue to order one of the Cloudprinter.com products that you created.

Continue to push in orders, as many as you need: See production status notifications and tracking codes coming back on the orders. You can view those notifications in either your WooCommerce admin or your Cloudprinter.com Dashboard. Now you can head to the Settings of your Cloudprinter.com plugin.

Change Order mode from Sandbox to Live.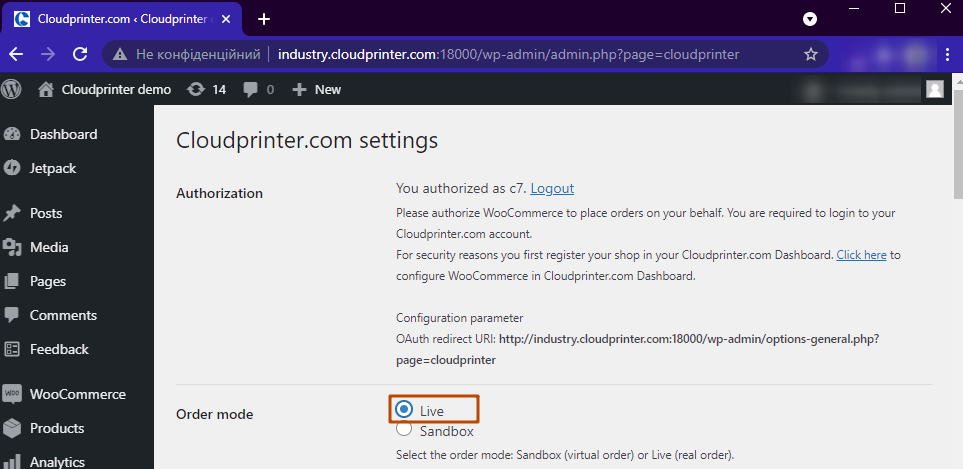 Once you Save these settings, your account is now in live mode. This means that all orders that are placed for Cloudprinter.com products on your webshop will actually be ordered and you will be invoiced for these orders as well!

What's next? You can now sit back and watch your orders being redirected to Cloudprinter.com automatically via the plugin. Once we've verified the order details, we route the order to the most qualified print house near the delivery address of the order and give a green light for printing the products. As soon as the order is printed, you will receive a shipping notification including tracking details. You can freely choose to share those details with your customers.
If you have any more questions about printing using the Cloudprinter.com plugin for WooCommerce, do not hesitate to reach out to us!