Cloudprinter.com offers different payment options for customers worldwide.
To get started, customers can use a credit card for automatic payments. This is the simplest payment method and is recommended for new customers. To add a credit card, log in to the dashboard, go to Payment & Plans, and select "Add a Payment Method."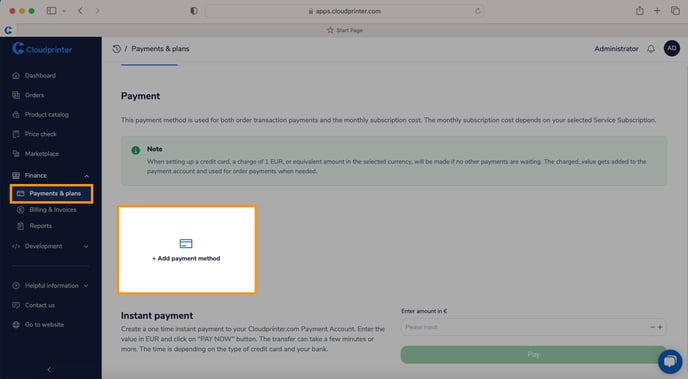 One-time instant payment
To avoid small, frequent deductions and bank notifications, you can make a one-time instant payment to your Cloudprinter.com payment account. Choose the amount you want to be charged from your credit card, and within minutes the money will transfer to your account. We deduct incoming orders from this account, but make sure to keep it sufficiently funded to avoid order processing issues.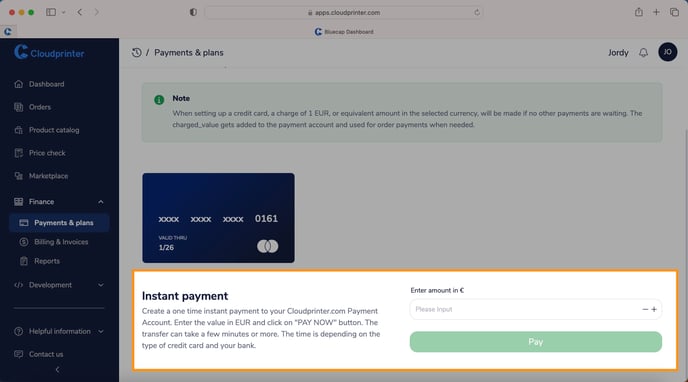 Google Pay, Apple Pay, and PayPal
Cloudprinter offers various payment methods for your convenience and security. You can pay with credit or debit cards, Google Pay, Apple Pay, and PayPal.
To use Google Pay, add your card to your Google account, and select it at checkout. To use Apple Pay, add your card to your Apple Wallet, and select it at checkout. For PayPal, create an account and select it as your payment method at checkout.
Post-payments
Cloudprinter offers additional payment methods for established customers, including bank transfers and deposit reservations. To use these methods, customers must first get approval from a Cloudprinter representative. These methods are considered post-payments, where customers receive an invoice for orders once per month and must pay within the agreed time frame. Customers can view their credit account balances in the Cloudprinter.com dashboard.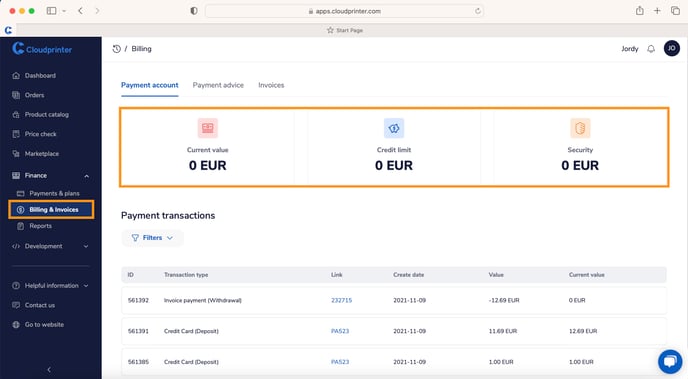 Deposit Reservation
Cloudprinter.com offers a payment method called "Deposit Reservation". The amount of the initial deposit is determined by the customer's anticipated use of the service when they enter into an agreement with Cloudprinter.com. If the deposit falls below a certain level, the customer is notified and must transfer funds to the account to continue using the service. Invoices are in Euros, but can be changed to US dollars by contacting a representative. The dashboard provides information on invoices, transactions, and accounts. A new credit account is now available in the dashboard.